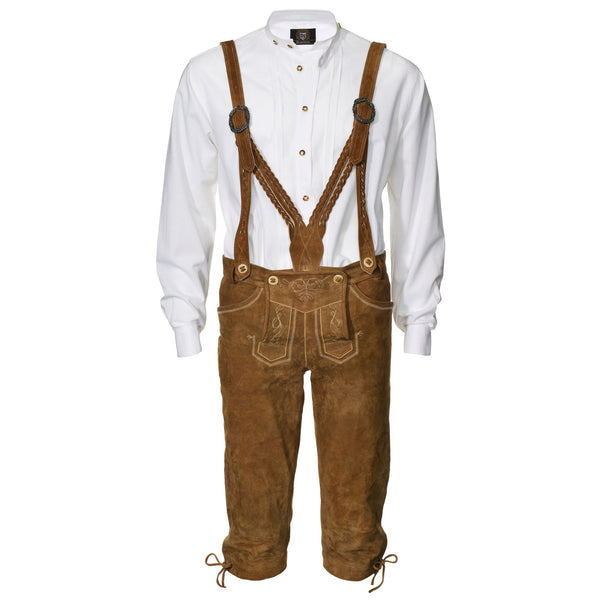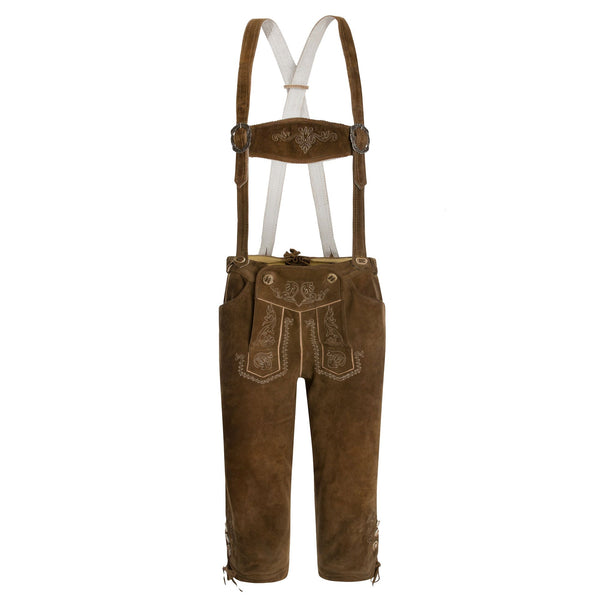 Lederhose with suspenders (Short)
Regular price

€35,90

für

1

day

Unit price / per

tax included
Description
++ Please note that we can not guarantee color and style requests.++
Traditional, short (to the knee) and knee-breeches leather pants with matching straps or belt, high quality embroidered and in different colors.You have never worn real Bavarian leather pants? Try it out and you will be thrilled - many of our customers are so convinced that they would like to buy the pants afterwards, but in any case keep coming back!The shorts are more comfortable, have more legroom and you'll feel like you've been wearing them for a lifetime, whether with a classic stay strap or even more comfortable with a belt.The knee breeches are a little tighter and some of them are at home in more formal areas (traditional costume and music clubs), but in any case a very traditional outfit, completed with a stay strap or a braid strap.
How to dress like a Bavarian Man
A pair of lederhosen often accompanies the real Bavarian man through life longer than his own wife!
Therefore, the more worn the more valuable!
By the patina and embroidery you can recognize the status of the wearer.
Cheap mass-produced goods can not do anything and is disdainfully punished by connoisseurs with disrespect and the one who is inside recognized as "Zuagroaster"!
Man decides between a short (knee-length) "Kracherten" or a Bundlederhose.
The latter goes over the knee, is cut tighter at the leg and is laced at the bottom - not for professional footballers with strong thighs!
The length is otherwise purely a matter of taste and reveals no secrets (such as the bow at the Madln) - who decides for suspenders: they stay up the whole evening! And the shirt stays in the pants! Even after the eighth measure!
If it starts to pinch in the evening - after the Schweinshaxn -: the waistband you can continue in the back center with the leather straps as needed.
Shoes:
Sneakers are comfortable, but you don't wear your jogging pants with patent leather shoes, so the Haferlschuh is the only accepted footwear for traditional costume!
It was originally made from only one piece of leather. The name comes from Haferl = cup, because its shape reminds of it.
Lederhosen and Haferlschuh always wear with traditional stockings, otherwise it looks funny!
Size info here ..