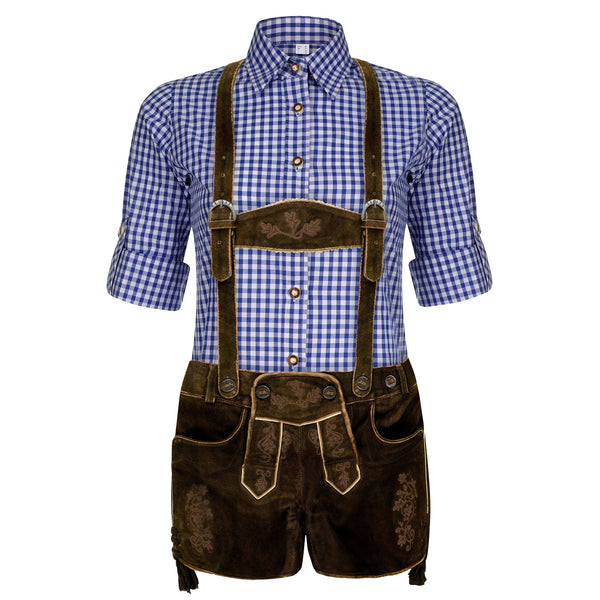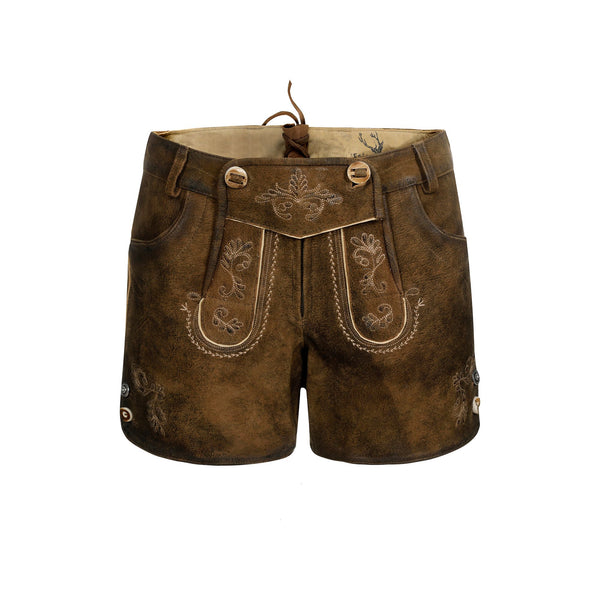 Regular price

€35,90

für

1

day

Unit price / per

tax included
Description
++ We are always trying to meet your color requests, but in case of unavailability, another color will be supplied. ++
Traditional, short leather pants with beautiful embroidery (also available as knee breeches on request) with matching straps or a belt. You don't feel comfortable in a dirndl? - then rent one of our leather pants and combine it best with one of our checkered cotton blouses in blue-white or pink (rose)-white.
How to dress like a Bavarian Lady
By the dress you can recognize a real DIRNDL! Basically, less is more!
Therefore, you will not find glitter dirndls, black blouses or transparent aprons!
Traditional costume is traditional costume and not carnival!
There are three classic skirt lengths: long, midi, short!
The shortest skirt length stops just above the knee! Everything that is shorter, is not a Dirndl!

The bodice must feel when closing, like one size too small: then it fits!
With every sip of beer it fits even better ...
Off the shoulder has nothing to do with traditional costume! Under each sleeveless dirndl belongs the blouse!
But it's still allowed to be open-hearted: to show what you have, leave the first button open and turn the corners - but the white dirndl bra still remains invisible, please ...
With the apron the Dirndl communicates with the Buam!
This is how it goes:
Ribbon tied front left = single
Ribbon tied front right = taken or married - for the Buam: FINGER AWAY!
Bow tied front center = former virgin, (modern interpretation rather "open for everything")
Bow tied back center = widow or waitress
Try out at your own risk!
Please always check the fit of the apron! Messy, slipped, half open = mai, is die bsuffa! (High German: oh, she's drunk!)
Shoes
This is where opinions differ!
If it goes according to the men, gladly with heel, but please without Chichi ...
A proper Bavarian evening can be long and dancing on beer benches requires stability, so but also think a bisserl practical: the spiked heel helps annoying competitors to step on the feet, but you are unfortunately also faster incapacitated ...
The classic traditional shoe is coming back into fashion and is worth a try ...
The most beautiful are crocheted traditional stockings, classic in white - they keep you warm on the way home, if there is no cab again ...
If a Madl in the traditional Dirndl still feels dressed up, a LED PANT FOR LADIES can help!
Less feminine, but in times of equality, absolutely acceptable!
With a white or plaid traditional shirt and g'scheitem Janker looks's also superfesch!
No pink traditional hot pants please! ... but you won't get them from us anyway!
Size info here!